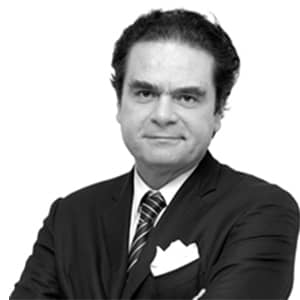 Denis CHEMILLIER-GENDREAU
Founding Chairman of FINACTU, Denis CHEMILLIER-GENDREAU has been leading the Group's activities since its creation in 2000. Denis CHEMILLIER-GENDREAU is an International Expert dedicated to Africa. He puts his intimate knowledge of Africa at the service of the continent's public and private players, for strategic and operational consulting and corporate finance assignments.
Denis CHEMILLIER-GENDREAU has built his expertise on the foundation of four experiences:
from 1990 to 1993 and from 1996 to 2000, he was an investment banker at PARIBAS;
from 1993 to 1996, he was Technical Advisor to the Chairman of the Finance Committee of the French National Assembly, where he was in charge of financial affairs (Crédit Lyonnais, pension funds, etc.), and then Advisor to the Minister of Labour and Social Affairs in Jacques CHIRAC's first government;
throughout those years, he combined these experiences with the practice of teaching in prestigious institutions (HEC, ENSAE, Dauphine) and as an Associate Professor at the University of Paris-Evry;
finally, since 2000, he put his expertise at the service of Africa as the Founding Chairman of FINACTU.
Denis CHEMILLIER-GENDREAU is a graduate of Ecole Nationale de la Statistique et de l'Administration Économique (ENSAE) in France (major in Finance-Actuarial) and holds two degrees in Economics and Law.
Denis is the author of two books:
"La micro-économie appliquée à la banque", published by Editions Economica, with a preface by François HENROT, Chairman of Compagnie Bancaire (1994)
"L'assurance responsabilité civile dans les pays en développement ", published by the World Bank (2009)
He regularly publishes articles in prestigious media (Le Monde, Le Figaro, Les Echos, the Financial Times, Revue d'Économie Financière, Revue Française d'Économie, etc.) or technical reviews (Revue Banque, review of CIPRES (www.lacipres.org) and FANAF, etc.).
Denis is French and lives in Paris (France).
Meet the other members of our leadership: