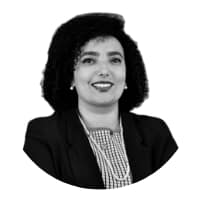 Sakina AGOUMI
Sakina AGOUMI is a Senior Consultant at FINACTU Group. She is versatile and works on a variety of missions to support financial groups operating in Africa. Convinced of the importance of values-based leadership, she makes it a point of honour when managing her teams. She actively contributes to the internal life of the firm through team building initiatives.
Early in her career, Sakina was the client of international consulting firms that assisted her in the design and implementation of a new commercial bank in Morocco and then of the first African eco-city. Four years later, she decided to move into the consulting business to harness her energy in solving various problems over shorter periods of time. In 4 years, she has accompanied leading Moroccan clients on sectoral strategies (fisheries and aquaculture), corporate strategies (social security, oil & gas, professional sports, education) as well as on open innovation issues in Africa (mining, banking, telecoms). She has provided support for diagnosis and strategy development as well as PMO and AMO support to C-level members and operational management.
Sakina attended ISCAE in normal and grande école cycles, as well as ESSEC Business School in a double MS SMIB course and Social Entrepreneurship Chair. She is currently completing the Global Executive Master in Management at HEC Paris on development challenges in African countries.
Sakina is Moroccan and lives in Casablanca (Morocco).
Discover our other members: